Posts for tag: gum disease
By Green Bay Family Dental
February 09, 2020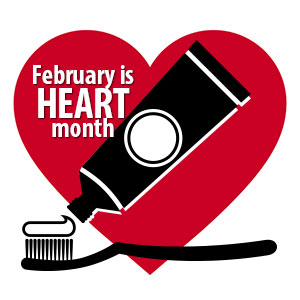 It's February and time for a little heart love. And not just the Valentine's Day kind: February is also American Heart Month, when healthcare providers promote cardiovascular health. That includes dentists, because cardiovascular health goes hand in hand with dental health.
It just so happens that February is Gum Disease Awareness Month too. If that's a coincidence, it's an appropriate one: Although different in nature and health impact, heart disease and gum disease are linked by a common thread: chronic inflammation.
Inflammation (or tissue swelling) in and of itself is beneficial and often necessary. When cells in the body are injured or become diseased, the immune system isolates them from healthier cells through inflammation for the protection of the latter. Once the body heals, inflammation normally subsides.
But conditions surrounding both heart disease and gum disease often prevent a decrease in inflammation. With heart disease, for example, fatty deposits called plaque accumulate within blood vessels, impeding blood flow and triggering inflammation.
A different kind of plaque plays a pivotal role with gum disease. Dental plaque is a thin biofilm that builds up on tooth surfaces. It's home to bacteria that can infect the gums, which in turn elicits an inflammatory response within those affected tissues. Unless treated, the infection will continue to grow worse, as will the inflammation.
The bad news is that these two sources of chronic inflammation are unlikely to stay isolated. Some recent studies indicate that cardiovascular inflammation worsens gum inflammation, and vice-versa, in patients with both conditions.
The good news, though, is that treating and managing inflammation related to either condition appears to benefit the other. Patients with cardiovascular disease can often reduce their inflammation with medical treatment and medications, exercise and a heart-friendly diet.
You can also ease gum disease inflammation by undergoing dental plaque removal treatment at the first signs of an infection. And, the sooner the better: Make a dental appointment as soon as possible if you notice swollen, reddened or bleeding gums.
You can lower your gum disease risk by brushing and flossing daily to remove accumulated plaque, and visiting us at least twice a year for more thorough dental cleanings and checkups. If you've already experienced gum disease, you may need more frequent visits depending on your gum health.
So this February, while you're showing your special someone how much you care, show a little love to both your heart and your gums. Your health—general and oral—will appreciate it.
If you would like more information about gum health, please contact us or schedule a consultation.
By Green Bay Family Dental
August 03, 2019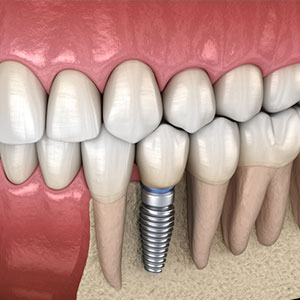 Among dental restorations, implants are the closest prosthetic we have to real teeth. They not only replace the visible crown, but the titanium post imbedded in the jawbone adequately substitutes for the tooth root. Because of their unique design, implants are not only life-like, they're highly durable and could potentially last for decades.
But while their success rate is remarkably high (more than 95% exceed the ten-year mark), they can fail. Ironically, one possible cause for implant failure is periodontal (gum) disease. Although an implant's materials are themselves impervious to disease, the tissues and underlying bone that support the implant aren't. If these natural tissues become infected, the secure hold the implant has can weaken and fail.
A gum infection usually begins with dental plaque, a thin biofilm of bacteria and food particles that builds up on tooth surfaces. Certain strains of bacteria within plaque can infect the gums. One particular form of the disease known as peri-implantitis starts as an initial infection and ensuing inflammation of gum tissues around an implant. The disease can quickly spread down to the bone and destroy the integration between the bone and the implant that helps keep the implant in place.
That's why it's important for you to keep the implant and the tissues around it clean of plaque, just as you would the rest of your natural teeth. This requires daily brushing and flossing around the implant and other teeth, and visiting your dentist regularly for more thorough dental cleanings.
You should also be alert to any signs of disease, especially around implants: gum redness, swelling, bleeding or pus formation. Because of the rapidity with which peri-implantitis can spread, you should see your dentist as soon as possible if you notice any of these signs.
Preventing gum disease, and treating it promptly if it occurs, is a key part of implant longevity. Preserving your overall dental health will help make sure your implant doesn't become a loss statistic.
If you would like more information on caring for your dental implants, please contact us or schedule an appointment for a consultation.
By Green Bay Family Dental
October 06, 2016
Are bleeding gums something you should be concerned about? Dear Doctor magazine recently posed that question to Dr. Travis Stork, an emergency room physician and host of the syndicated TV show The Doctors. He answered with two questions of his own: "If you started bleeding from your eyeball, would you seek medical attention?" Needless to say, most everyone would. "So," he asked, "why is it that when we bleed all the time when we floss that we think it's no big deal?" As it turns out, that's an excellent question — and one that's often misunderstood.
First of all, let's clarify what we mean by "bleeding all the time." As many as 90 percent of people occasionally experience bleeding gums when they clean their teeth — particularly if they don't do it often, or are just starting a flossing routine. But if your gums bleed regularly when you brush or floss, it almost certainly means there's a problem. Many think bleeding gums is a sign they are brushing too hard; this is possible, but unlikely. It's much more probable that irritated and bleeding gums are a sign of periodontal (gum) disease.
How common is this malady? According to the U.S. Centers for Disease Control, nearly half of all  Americans over age 30 have mild, moderate or severe gum disease — and that number increases to 70.1 percent for those over 65! Periodontal disease can occur when a bacteria-rich biofilm in the mouth (also called plaque) is allowed to build up on tooth and gum surfaces. Plaque causes the gums to become inflamed, as the immune system responds to the bacteria. Eventually, this can cause gum tissue to pull away from the teeth, forming bacteria-filled "pockets" under the gum surface. If left untreated, it can lead to more serious infection, and even tooth loss.
What should you do if your gums bleed regularly when brushing or flossing? The first step is to come in for a thorough examination. In combination with a regular oral exam (and possibly x-rays or other diagnostic tests), a simple (and painless) instrument called a periodontal probe can be used to determine how far any periodontal disease may have progressed. Armed with this information, we can determine the most effective way to fight the battle against gum disease.
Above all, don't wait too long to come in for an exam! As Dr. Stork notes, bleeding gums are "a sign that things aren't quite right." Â If you would like more information about bleeding gums, please contact us or schedule an appointment. You can read more in the Dear Doctor magazine article "Bleeding Gums." You can read the entire interview with Dr. Travis Stork in Dear Doctor magazine.