Your First Orthodontic Appointment
Your first appointment is an exciting time! It's a chance for you to learn about the treatments and services that can help give you the best smile possible. It all starts with the initial consultation.
Our office would like to take this opportunity to explain what is involved in an orthodontic evaluation and familiarize you with the two appointments involved in the process.
The first appointment consists of orthodontic records. That involves taking panoramic and cephalometric films, diagnostic models, and photographs. The appointment is usually about an hour long and must be scheduled either in the morning or first thing in the afternoon. We ask that no earrings be worn to this appointment because of the radiographs that will be taken. There is a fee for this appointment which includes the consultation with the doctor. You may speak with our office regarding the fee.
The consultation appointment is scheduled approximately four weeks after the orthodontic records appointment. The consultations are scheduled Mondays at 10 am and Tuesday and Thursdays at 8:10am or 1:40 pm. Both parents and the patient should attend this visit, if possible. At this time, Dr. Heidi will fully explain the orthodontic treatment proposed and can answer any questions that you or your child may have. Our office will also discuss financial arrangements with you and can submit a pre-treatment estimate to your insurance company to determine what benefits are available to you.
The decision to undergo orthodontic treatment is one that involves a commitment from both parent and child. Orthodontic appointments are usually scheduled in one to four week intervals. Most appointments will be available after school; there are some that must be scheduled during the day! If appointments are not kept in the intervals suggested by the doctor, the estimated treatment time and overall results may be affected. If an appliance is loose or broken, it is important that our office be notified as soon as possible. Successful orthodontic treatment depends on the cooperation of you and your child.
Whether you're starting now or later, the first visit is the best time to ask questions about the process. Topics to discuss include treatment choices, what to expect at the different stages of the process, and any of the following:
Can orthodontic treatment benefit me (or my child)?
What general procedures will be used to correct the problem?
Are any options available (or recommended) for my treatment?
Should I get treatment now, or is it better to wait?
Will tooth extraction be necessary?
How much does treatment cost? Are payment plans available?
How long do you expect treatment should take?
When you leave the office, you should have a better understanding of how you can get the best possible smile.
Related Articles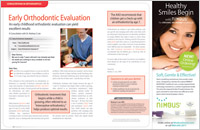 Early Orthodontic Evaluation Early detection of orthodontic problems in young children may make it easier to correct those problems in the long run. Waiting until all of the permanent (adult) teeth have come in, or until facial growth is nearly complete, may make correction of some problems more difficult or even impossible. An early childhood orthodontic evaluation can yield excellent results... Read Article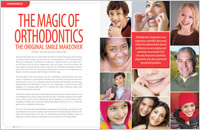 The Magic of Orthodontics Proper alignment of the teeth is basic to "Smile Design." Their position dictates how they work together and affects the way you look and smile. Only orthodontic treatment can move teeth into the right position. Simply put, when things look right, they probably are right. Learn the basics of smile analysis and design and whether the magic of orthodontics will work for you... Read Article